Ein knappes halbes Jahr ist es her, dass Chevrolet seinen 659 PS starken
Camaro ZL1
mit dem 6,2-Liter-V8 unter der Haube
mit einer Zeit von 7:29 min
über die Nordschleife schickte. Vor allem im Verhältnis zum aufgerufenen Preis von in den USA 61.140 Euro. Doch die Amis wollen in Sachen Rennstrecken-Performance noch mal nachlegen und haben dem V8-Modell nun noch das 1LE Performance-Paket angedeihen lassen. Als Camaro ZL1 1LE dürfte die Rundenzeit auf der NOS jetzt wohl erneut unterboten werden.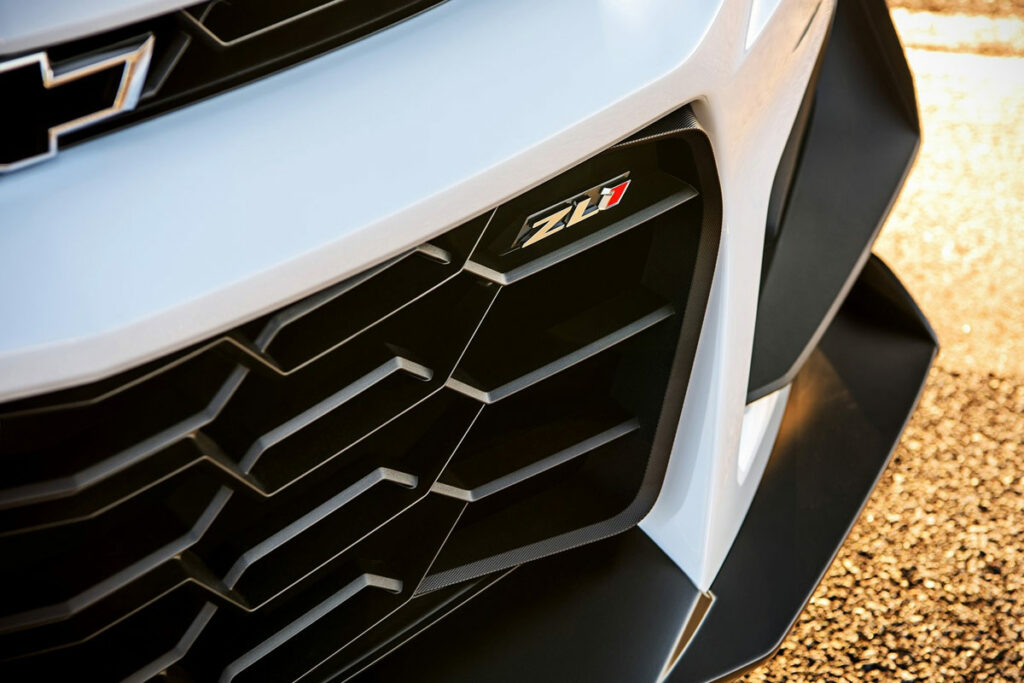 Optisch wie technisch unterscheidet sich das 1LE-Modell vom ZL1. An der Front fallen sofort der neue Grill und die seitlichen Blades ins Auge. Außerdem besteht nun die komplette Motorhaube aus Carbon. Das Heck wird vom "not adjustable" Carbon-Heckflügel dominiert, der bei Topspeed 150 Kg Abtrieb produzieren soll.
Das 1LE-Paket beinhaltet zudem die neue Alufelgen (die insgesamt drei Kilogramm leichter sind) und die breitesten Reifen, die je auf einem Camaro zum Einsatz kamen: Vorne messen sie 300/30-19, hinten sind 325/30-19er Pneus aufgezogen. Verwendet werden Goodyear Eagle F1-Reifen.
Vergeblich sucht man beim Camaro ZL1 1LE auch die Zehngang-Automatik, stattdessen kommt ein manuelles Sechsgang-Getriebe zum Einsatz, das für den Einsatz im Tracktool optimiert wurde. Ebenfalls verbaut werden neuartige Stoßdämpfer (Dynamic Suspension Spool Valve), die in ihrer Art bereits im Camaro Z/28 für gute Performance auf der Rennstrecke sorgten und zum Beispiel mit nur einem Handgriff um bis zu drei Grad Sturzänderung zulassen. Natürlich ist das Fahrwerk zudem manuell einstellbar (gleiches gilt für die hinteren Stabis). Obendrein haben die Chevrolet-Ingenieure bei ihrer Arbeit noch rund 30 Kilogramm gefunden (unter anderem bei der Verwendung der leichteren Rückbank).
Zu welchem Preis das 1LE-Paket für den Camaro ZL1 zu haben sein wird, ist derzeit noch nicht bekannt. Doch es dürfte sich lohnen, findet zumindest Camaro Chef-Ingenieur Al Oppenheiser und bezeichnet den Camaro ZL1 1LE als "the ultimate track-day Camaro".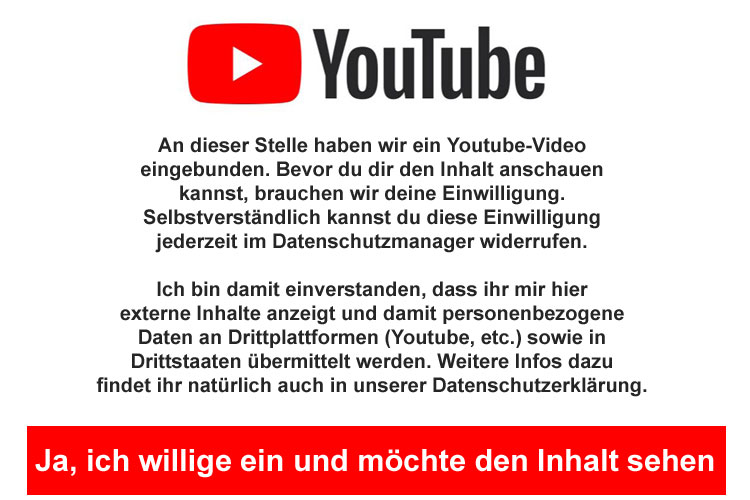 dd
Chevrolet has established a new performance benchmark with the introduction of the 2018 Chevrolet Camaro ZL1 1LE – the most track-capable Camaro ever.
Taking the track-focused 1LE formula to an unprecedented level, the Chevrolet Camaro ZL1 1LE incorporates racing-based suspension and aero technologies, as well as exclusive Goodyear Eagle F1 Supercar 3R summer-only tires,* in an extreme track performance package.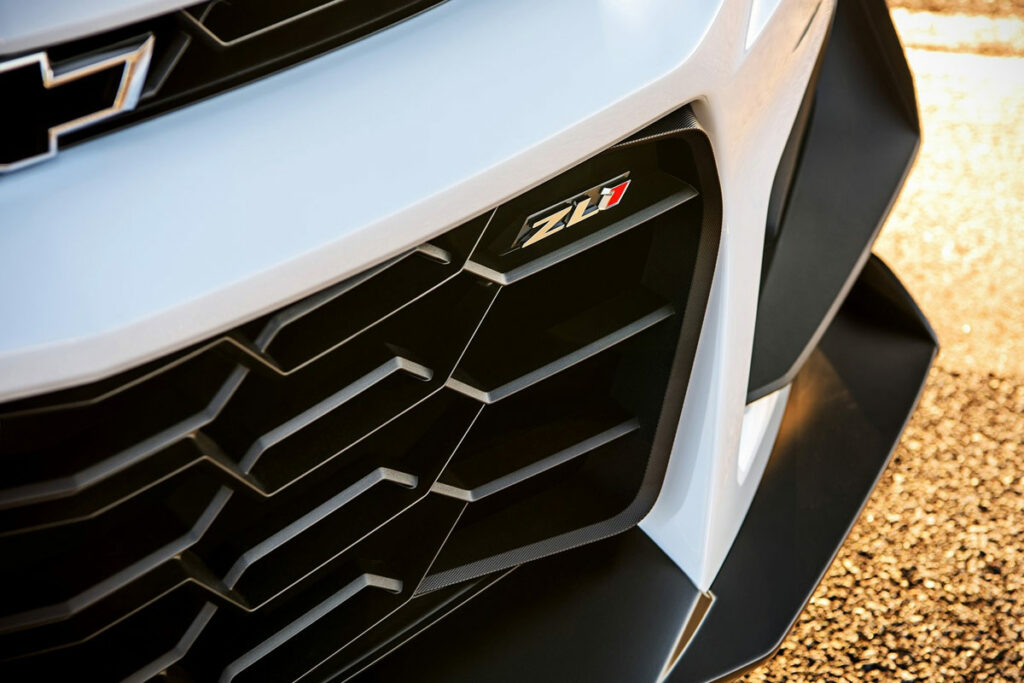 "The track-focused 1LE package offers progressive levels of performance across the Camaro lineup, from the V6 1LE to the SS 1LE," said Al Oppenheiser, Camaro chief engineer. "But with the new ZL1 1LE, the progression takes a quantum leap – this is the ultimate track-day Camaro."
In preliminary testing, the new Chevrolet Camaro ZL1 1LE was 3 seconds faster than the standard ZL1 Coupe around General Motors' 2.9-mile, 18-turn Milford Road Course test track.
The improved track performance is driven by four key elements:
Aerodynamics: New aero features including a carbon fiber rear wing, specific air deflectors and dive planes on the front fascia produce grip-generating downforce to help the car stick harder and drive faster in turns.
Adjustable suspension: The ZL1 1LE features racing-derived, lightweight Multimatic DSSV® (Dynamic Suspension Spool Valve) dampers front and rear for exceptional wheel and vehicle control. The front-end ride height is adjustable with the front dampers, which are used with all-new, adjustable camber plates. The rear stabilizer bar also offers three-way adjustability. All of the components are designed for quick changes at the track for optimal performance and a quick return to street settings when the track day ends.
Wheels and tires: New, lightweight forged aluminum wheels are an inch wider but an inch smaller in diameter, front and rear, than standard ZL1 wheels and are used with new Goodyear Eagle F1 Supercar 3R tires that deliver max lateral grip of 1.10g. Developed exclusively for the Camaro ZL1 1LE, the 3R tires are designed to warm up faster to help maintain more consistent grip and speed, lap after lap. The overall footprint grows approximately 10 percent over the ZL1, but the wheel-and-tire package weighs about 1.5 pounds (3.3 kg) less per corner.
Lighter weight: The lighter wheels and dampers, along with reduced thickness rear glass and a fixed-back rear seat, contribute to an approximately 60-pound (27 kg) lower curb weight than a standard ZL1 Coupe.
"The new Camaro ZL1 1LE offers the supreme track experience," said Mark Dickens, executive director, Chevrolet Performance Variants, Parts and Motorsports Engineering. "It's the pinnacle of Camaro performance and advances the 1LE's nearly 30-year legacy of uncompromising, track-tailored capability."
The power behind the Chevrolet Camaro ZL1 1LE is the 650-horsepower, supercharged LT4 engine backed by a six-speed manual transmission featuring Active Rev Match. Brembo brakes, including red calipers with the 1LE logo, are also included. Additional standard features include dual-zone automatic climate control, Bose premium audio system, heated/ventilated front seats and heated steering wheel.